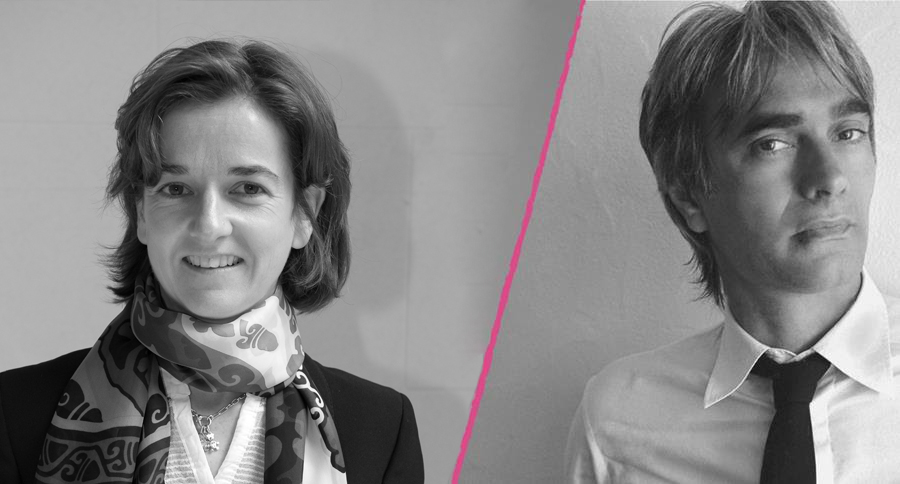 Few fashion houses still have such a living, so unique history, which always follows a sort of common thread. I think of the colors, of the flowers, of all this bright and living universe. Tell me how it is possible to cross the ages with this same aesthetic and this same spirit.
I think that's precisely what saved us: we created a style! The house has been in existence since 1968 and my father bought it in 87. He, my sister and I took care to respect this style. We are sometimes surprised by the success of certain brands that lack a strong stylistic attachment. So we immediately recognize a Leonard dress or garment, and it is essential for us to keep this uniqueness. This can obviously be restrictive for stylists! For some jersey clothes, for example, you have to work on designs measuring four feet by four feet, with flower patterns made up like a painting ... This can frighten more than one! However, following all of these steps is a bit like baking a good cake; there is ultimately little chance of making a mistake.
It is also what makes it possible to transmit the tradition of the house, its unique know-how.
It's a very difficult style to copy, indeed. We are very proud of this identity, of this difference, which allows us to exist. I deeply believe that color, lightness, femininity matters and that many women seek it. They can find it with us, and in a unique way, since we are a small house. This is what makes us strong. However, this also represents a constraint: that of reserving ourselves for informed customers. Today, all of our work focuses on presenting our designs to women who want a Leonard experience. Because wearing a Leonard dress is an experience in itself.
How would you qualify this experience?
First you have to show a certain personality. As soon as you wear a Leonard dress, you are transformed. We work on our collections two years in advance. The dress is first and foremost a drawing, a graphic work, which must then be chosen, colored, transformed into fabric. It's like a magic trick, a metamorphosis.
So, is it the garment that transforms the woman, or the woman who sublimates the garment with its liberated personality?
A bit of both, no doubt [laughs]. Often what helps us is the loyalty of our customers. A woman who learns Leonard - because it learns - adopts Leonard, because it's light, it bends, it creases. This is where it is a singular experience.
There are also your collaborations with artists. Are you a house that has a very close connection to art, right from the start, it seems to me?
For our clothes, we work with painters, who draw us pictures… in somewhat restrictive formats! For example, we have been collaborating for years with Francine Van Hove, an artist who personally had a portrait gallery; in other words, something very far removed from what we do. But she fell in love with orchids, their graphic potential, and is now part of the history of the house. We have a workshop, but we always like to recruit new talent.
And how is your work with these emerging artists going?
We try to do collaborations, but it's not necessarily easy, because you have to fit 100% into the Leonard idea. The artist must want his drawing intended for Leonard. We guide them, of course, but we also let them do it. If you still want to be there in sixty years, you have to know how to renew your style and adapt; because people change, the world changes, it gets smaller. We are a house that is much less visible than the big brands. We design luxury products: it is therefore necessary that people have an idea of ​​their true value. This is where it is much more complicated for us. We are helped by Asia. Japan has a deep love for our home.
Two aspects seem particularly remarkable to me. First, this link with Japan, which seems obvious, given the quality of your creations, with a sense of beauty close to that found in Japanese culture. And then there is the story of your family. I always have the feeling that when a family devotes itself to the search for Beauty, it necessarily creates beauty. For me, this is no accident. Some houses have a history and a tradition to pass on.
Yes, absolutely. To transmit is also to give: it is something very strong, but also very complex. The conversations between my father, my sister and I are very informative. My father created this business, imposed a style and developed it. From now on, we must go beyond the limits, push the project further, address ourselves to a different audience. He had his wife Leonard in mind; my sister and I have ours… and I hope our children have theirs! I think this family dimension gives us a very special strength. We have to be united around the same project. All this sediments our house. When you think of all these institutions run by people who change every six months ... that doesn't exist with us. Even in a difficult environment like today, the style and the foundations remain, and I have no doubts that this will allow us to resist. The Leonard house is all about gaiety, color, we are incredibly lucky! Finally, you have to have fun. My father has this beautiful saying: "Time goes by, good goes". Have fun! It was a bit of a disappointment to me to see some sad productions during fashion week.
Yet the rainbow seems to be returning, as a cause for hope, expectation of happiness. A bit like the cherry blossoms of Japan ...
Yes, it's true. As for the Japanese, it's a real pleasure to work with them! There is such a desire to succeed, such rigor… They love our designs and our organization, our respect for family, our sense of history. I have a very deep attachment to Japan, even though the patriarchal system can be extremely difficult when you are a woman and want to work with them. They can also help us understand China, which also expects our products.
I am convinced of that, especially having been to Shanghai, I saw how the Japanese play an important role in the development of certain cities. It reminds me a little of the relationship the Greeks had with the Romans.
Yes quite ! Shanghai has become an absolutely beautiful city. Likewise, Korea is also a country close to our hearts. Besides, I only had to deal with women there. You have to believe that men are hiding [laughs]! In Japan, it's hard to be fulfilled when you are a woman who wants a career.
Leonard's great strength is obviously in the colors… But have you ever done black and white? [laughs]
Yes ! We did some, with very graphic designs ... But if we consider the entire history of the house, that is still very much in the minority. In fact, it depends on the moments, the context. For example, during the Gulf War, it was not always a good time to be happy, so we made plain clothes. Which didn't work at all! We have over 5,000 archival drawings already in use, and 5,000 more that we have purchased and have not yet used. Patrick Frey, for example, has a huge amount of archives.
At the moment I am in the middle of the archives of the Hermès house: I understand very well! It is not just a heritage to be preserved; it is above all a living heritage, which young designers can appropriate and take back.
We have exactly the same vision. We keep in archives all the technical documents, the drawings, the digitizations of the drawings and our clothes since 1965. We had an exhibition in Lyon in 2007 for the Tissue Museum, and we published a book on it. , which has marked us over time, in a way.
All of these colors carry a much needed hope nowadays.
It is a dynamic based on collective enthusiasm. This is why the current health context is complicated. We absolutely need people to work here, at the same time, on a common project. It is very difficult to lead a team, when everyone is not there. But it's a great story. I wish this would last! How sad to see such magnificent houses like Sonia Rykiel's collapse… I was so sad for Sonia. At Baccarat, it's the same thing. The problem stems from a development pushed by some managers who did not understand how an exceptional product is made. We need artisans behind! With us, there are model makers, cutters, mechanics. These are all talents, skills! Without it, even with money, nothing can work. It's not just about preserving heritage, but bringing it to life in the present!
I have made a lot of films for Saint-Louis and luckily I worked with René Lalique. It's great to see these gestures that endure ...
… And above all, they must not be lost! We can't lose them anyway!
It's the strength of a family. What values ​​did your father pass on to you in this regard?
So first of all he taught me a lot about Japan, because he was the one who brought me into this world. I started working with him in 1992 when I was twenty-two. He gave me rigor and speed in decision-making, the art of negotiation and honoring commitments. He is a man who loves life, who loves people. We had to fight with him, to be able to take charge of the follow-up that we gave to his story. And it is still there. He comes from time to time to discuss a drawing. He's madly in love with his business, and that pushes me to be too. Some days are difficult, but you don't have the right to create obstacles. When he started it was very complicated, and see today! We are a house that works. You should never admit defeat! There have been and always will be obstacles.
Family tradition obliges us, so what about your children?
I have three ! My oldest daughter would be so happy to be able to work here. She's only twenty-one, so she still needs to learn her skills a little ... But I'll give her every right to. I tell my daughter she will have to go for it someday!
Interview by Leonardo Marcos